Controller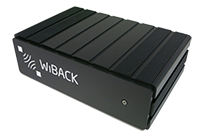 The WiBACK Controller consists of an x86 system board (from low power Atom to 1U server – virtualization via KVM is also possible), is typically located indoors, and acts as the gateways between a WiBACK backhaul and a fixed network infrastructure (backbone). Most of the WiBACK self-x functionality is implemented in this device, including monitoring, spectrum management, E2E QoS provisioning, and overall network management. Conceptually, multiple controllers can be present in a network to reduce the risk associated with a single point of failure.
The controller manages traffic paths inside the WiBACK network and ensures that individual links will not be overloaded. In particular, links for voice traffic will always run at very low latency and close-to-zero packet loss.
The controller software can be licensed from Fraunhofer FIT.